Get most reliable way
to stay connected in Taiwan
Get most reliable way to stay connected in Taiwan
ESIMTAIWAN.COM
Best Plans
Select your perfect data plans
to enjoy 4G LTE

4.79 999+ sold

3.99

4.23 735 sold

15.99
Multi-Country Plans cover multiple destinations
City Plans connect to the best local network
Our Local Network provides coverage
99% of time in Taiwan
ESIMTAIWAN.COM offers reliable service on the Chunghwa's network.
You'll enjoy 4G LTE speed data almost everywhere you travel in Taiwan.
High-speed
4G LTE data
Enjoy the impressive speed of our reliable 4G LTE network, ensuring a seamless and uninterrupted online experience.
Swift eSIM delivery
and Activation
Save time and free yourself from concerns regarding possible disruptions with our seamless and reliable data solutions.
Unlimited
hotspot usage
Experience the freedom of unrestricted hotspot sharing. Share your data with loved ones without any limitations.
Keep Your Existing
Mobile Number
Keep your current phone number and stay connected to your home while enjoying seamless data connectivity through our eSIM Solution.
Fully Prepaid,
No-Contrct Plan
Free yourself from complicated contracts and enjoy the simplicity of a one-time prepaid eSIM. No unexpected surprises like auto-renewals or additional fees will arise.
Local-Like Rates
& Clear Pricing
Say goodbye to pricey roaming charges and embrace budget-friendly, transparent pricing. Making a wise choice is easier than you might imagine.
Our 24/7 experts are available to assist you
Embark on your adventure with peace of mind. Our dedicated customer support team stands prepared to assist you wherever you are around the world. Reach out to us through email for swift assistance.
| | |
| --- | --- |
| | Receive support in just 5 minutes. |
| | Engage with authentic human support, not automated responses. |
| | Obtain efficient solutions from seasoned experts. |
Customers love eSIM Taiwan
ESIMTAIWAN.COM's purpose is providing the best eSIM service to global travelers.
eSIM helps travelers to use local cellular plans with simple steps.
eSIM Taiwan users can always stay connected without switching a physical SIM card while traveling.
ESIMTAIWAN.COM extends a warm welcome to your unforgettable adventure in Taiwan. We assure you of uninterrupted connectivity, whether you're at the pinnacle of Taipei 101 Observatory, exploring Chiang Kai-shek Memorial Hall, or perusing the National Palace Museum. Capture and share these moments on your preferred social media platforms to enhance the memorability of your journey.
Let go of all your concerns, knowing that our 24/7 customer support is here to assist you throughout your entire journey. We guarantee that your trip will be exceptional with our reliable and speedy eSIM. Begin planning your unforgettable adventure in Taiwan now. Start a wonderful travel you have never experienced!
Are you a first-time eSIM user?
Count on us for your stress-free eSIM experience.
eSIM, short for embedded SIM, provides a convenient solution for travelers seeking mobile data access abroad, all without the need to swap out their physical SIM cards. Enjoy the ease of our user-friendly eSIM data plans, promptly delivered to your email within 5 to 15 minutes of payment. Bid farewell to the inconvenience of queuing up for a physical SIM card while on your travels. With eSIM, you can retain your original physical SIM for receiving SMS and calls from your home country. Unlock the advantages of eSIM with a swift QR code scan and embark on your extraordinary journey with our outstanding eSIM data plans.
To ensure a seamless connectivity solution, it's crucial to confirm the compatibility of your device with our advanced eSIM technology. While most GSM-compatible devices can work with our eSIM, compatibility may vary depending on your location and carrier. For iOS devices, models released after the iPhone XR generally support our eSIM. However, devices manufactured in Hong Kong or China may not offer eSIM functionality. On the Android side, the latest Samsung Galaxy and Google Pixel phone models typically offer compatibility with our eSIM. However, compatibility may depend on the specific model, manufacturing location, and carrier. For peace of mind regarding compatibility, please refer to our comprehensive list of supported devices.
Apple iPhone
Compatible Device
iPhone 14, 14 Plus, 14 Pro, 14 Pro Max,
iPhone SE3 (2022),
iPhone 13, 13 Pro, 13 Pro Max, 13 Mini,
iPhone 12, 12 Pro, 12 Pro Max, 12 Mini,
iPhone 11, 11 Pro, 11 Pro Max,
iPhone SE2 (2020),
iPhone XR, iPhone XS, XS Max
(Recommended iOS version: iOS 13.3 or later)
Incompatible Device
iPhone purchased from mainland China
iPhone purchased from Hong Kong and Macao (except for iPhone 13 mini, iPhone 12 mini, iPhone SE 2020, and iPhone XS)
Samsung Galaxy
Compatible Device
Galaxy S23 5G, S23 Ultra 5G, S23+ 5G,
Galaxy S22 5G, S22 Ultra 5G, S22+ 5G,
Galaxy S21 5G, S21 Ultra 5G, S21+ 5G,
Galaxy S20, S20+, S20 Ultra 5G,
Galaxy Note 20, Note 20 Ultra, Note 20 Ultra 5G
Galaxy Note 20+, Note 20 FE, Note 20 FE 5G,
Galaxy Fold, Z Fold 2, Z Fold 3, Z Fold 4 5G,
Galaxy Z Flip, Z Flip 3 5G, Z Flip 4 5G
Incompatible Device
All Samsung S20 FE/S21 FE models
S20/S21 and Galaxy Z Flip 5G from USA
Note 20 Ultra and Galaxy Z Fold 2 from USA and Hong Kong
Google Pixel
Compatible Device
Pixel 7, 7Pro,
Pixel 6, 6a, 6Pro,
Pixel 5, 5a,
Pixel 4, 4a, 4XL,
Pixel 3, 3XL,
Pixel 3a, 3aXL
Incompatible Device
Pixel 3 models manufactured from Australia, Taiwan, and Japan
Pixel 3 models bought from US or Canadian carriers other than Sprint and Google Fi
Pixel 3a models bought in South East Asia and with Verizon service
Why choose eSIM over other options?
| | | |
| --- | --- | --- |
| | | |
| Reasonably priced compared to roaming | Time-saving and convenient solution | Eco-friendly and Earth-friendly! |
| Make a wise move by purchasing our cost-effective eSIM. No more wasting money on international roaming. | Do not wait in lines for physical SIM or pocket Wi-Fi. Our eSIM will be delivered to you within 15 minutes by email. | Support the environment with a plastic-free eSIM, reducing waste and CO2 emissions. |

  Reasonably priced compared to roaming
Make a wise move by purchasing our cost-effective eSIM. No more wasting money on international roaming.

Time-saving and convenient solution
Do not wait in lines for physical SIM or pocket Wi-Fi. Our eSIM will be delivered to you within 15 minutes by email.

Eco-friendly and Earth-friendly!
Support the environment with a plastic-free eSIM, reducing waste and CO2 emissions.

Get eSIM at your fingertips, Get ready for your trip!
Choose the plan that suits your travel needs and place an order.
Receive the QR code via email and instantly scan it to activate.
Have a light and enjoyable trip without any data concerns.
Is eSIM available in the Taiwan?
Absolutely, you can obtain an eSIM from anywhere and at any time, provided you have a compatible and unlocked device.
To verify the list of supported device models, please visit our website, which you can access here.
To determine whether your device is locked or unlocked, please refer to the brand-specific instructions for your phone:
For Apple Devices:
01. Access [Settings] – [General] – [About] and scroll down
02. If you see "Network Provider Lock – No SIM restrictions" and "Digital SIM – IMEI (number will appear)," your phone is eligible for eSIM use.
03. If "SIM restrictions" are displayed, your phone does not support eSIM.
For Samsung & Google Devices:
01. Access [Settings] – [Connections] – [Mobile networks]
02. Choose [Networks operators]
03. If you see multiple available networks, your phone is likely unlocked and eSIM-compatible.
04. If only one result is visible or the option to search for networks is unavailable, your phone may be carrier-locked. In such a case, you'll need to contact your domestic carrier to unlock your phone before using an eSIM.
How do I get an eSIM in Taiwan?
You can easily purchase an eSIM online whenever or wherever you want at eSIM Taiwan.
Buy the perfect eSIM for your trip in just three easy steps:
First, choose the data plan that suits your travel needs.
Second, complete a secure payment using the trusted PayPal gateway.
Finally, expect to receive your QR code via email in as little as 15 minutes.
Can you buy an eSIM online?
Yes, you have the option to purchase an eSIM online through eSIM Taiwan, available at esimtaiwan.com. We take pride in delivering top-notch eSIM solutions tailored for tourists exploring Taiwan. Our offerings include budget-friendly, high-speed eSIM data plans that encompass multiple regions in Japan. These plans provide comprehensive global coverage and offer city-specific choices, each with varying durations of validity to suit your travel needs.
What is the best eSIM card for Taiwan tourist?
When determining the most appropriate eSIM package for your trip to Taiwan, it's important to consider factors such as your data requirements, coverage area, and the duration of your stay. Here are some options to consider:
| eSIM Taiwan Unlimited Plans: These plans offer unlimited data, with reduced speeds (384 kbps) after you've used up your high-speed 4G LTE data. They come with various validities ranging from 3 to 10 days.
| eSIM UK Taiwan-China-Hong Kong-Macau Unlimited: Designed for travelers visiting Taiwan, China, Hong Kong, and Macau, this plan provides coverage in all four countries.
| eSIM Asia Unlimited Plans: These plans are ideal for travelers who intend to visit multiple countries in Asia. We offer coverage in 13 Asian countries.
Before making your decision, we recommend thoroughly reviewing the details and terms of each eSIM plan. If you require personalized assistance in selecting the perfect plan, please don't hesitate to reach out to the eSIM World team at hello@esimworld.net
Does the eSIM plan include a local phone number?
Unfortunately, eSIM Taiwan offers data-only plans, which means local phone numbers are not part of these packages. Consequently, these eSIM plans do not support the ability to make voice calls or send SMS. If you require voice calls and SMS capabilities, we suggest using VoIP (Voice over Internet Protocol) services like Skype or other messaging applications that rely on data connectivity to enable calls and messaging.
How long does it take to receive an email with the QR code?
After the successful processing of your payment, our eSIM QR code is automatically sent to your provided email address within a mere 15 minutes. If you haven't received it within this timeframe, please consider the following steps:
1. Check Spam or Promotion Folder
Look in your spam or promotion folder, as your email may have been filtered there.
2. Contact Us for Assistance
If there's a typo in your email address, kindly reach out to us at hello@esimworld.net for a prompt resend.
3. Payment Processing Delay
If you used iDEAL or another non-PayPal payment method, there may be delays during the transfer to PayPal. In such cases, please contact the respective payment gateway for assistance.
4. PayPal Security Measures
Periodically, PayPal may subject your payment to security checks, which could take up to 72 hours. This is part of PayPal's security protocol. For guidance, please contact PayPal's customer service.
Please note that even for credit or debit card payments, the processing is routed through PayPal, which may undergo PayPal's security checks and pending status. For further assistance, we recommend reaching out to PayPal's customer service.
How do I get assistance from eSIM World Team?
If you need assistance or have any inquiries, you can effortlessly contact us at hello@esimworld.net. Our dedicated customer support team is available 24/7, ready to assist with any concerns or questions regarding your eSIM plan or its usage. Feel free to reach out to us.
How can I verify my eSIM activation?
To ensure your eSIM activation, keep an eye out for these two key indicators:
| eSIM Profiles
Navigate to your device's eSIM settings, where you'll find a list of available profiles or plans. Once your eSIM is successfully activated, you'll spot an active profile without a listed phone number among the options.
| Signal and Connectivity
After your eSIM is activated and linked to a cellular network, you should observe signal bars or connectivity icons in your device's status bar. Additionally, you might see the carrier name associated with the eSIM, confirming both its activation and network connection.
How can I monitor my data usage?
To track your data usage, you can access your device's Settings. For precise data consumption details, please reach out to us at hello@esimworld.net.
The process varies depending on your device's manufacturer:
Apple Devices
01. Open [Settings]
02. Select [Cellular/Mobile Data]
03. Check your data usage under "Current Period Roaming."
04. Alternatively, detailed instructions are available on the Apple website here.
You can also dial 1019# to check your data usage via a call.
Samsung Devices
01. Access [Settings] – [Connections]
02. Select [Data usage]
03. Your mobile data consumption will be displayed.
04. You can also dial 1019# and make a call to check your data usage.
Google Devices
01. Open [Settings] – [Network & Internet] – [Internet]
02. Tap [Settings] next to your operator
03. At the top, you'll see the total data you have used.
Should I turn off my original SIM?
It's highly recommended to deactivate your original SIM to prevent incurring data roaming charges from your domestic carrier while using the eSIM. Deactivating your original SIM ensures that your device exclusively relies on the eSIM for data connectivity during your travels.
However, if you wish to continue receiving calls and SMS on your home number while using the eSIM, you can opt to keep your original SIM active. In this scenario, we recommend disabling the "Automatic Cellular Data Switching" feature on your device to prevent unintended data usage, ensuring that data traffic is directed through the eSIM plan rather than the original SIM.
Should I turn on data roaming for eSIM?
Yes, it's crucial to enable data roaming for your secondary line, which is your added eSIM plan. To activate data roaming, follow these steps:
For Apple Devices
01. Access [Settings] – [Cellular]
02. Choose the [Secondary]  (the eSIM plan you've added)
03. Make sure that [Data Roaming] is switched to the ON position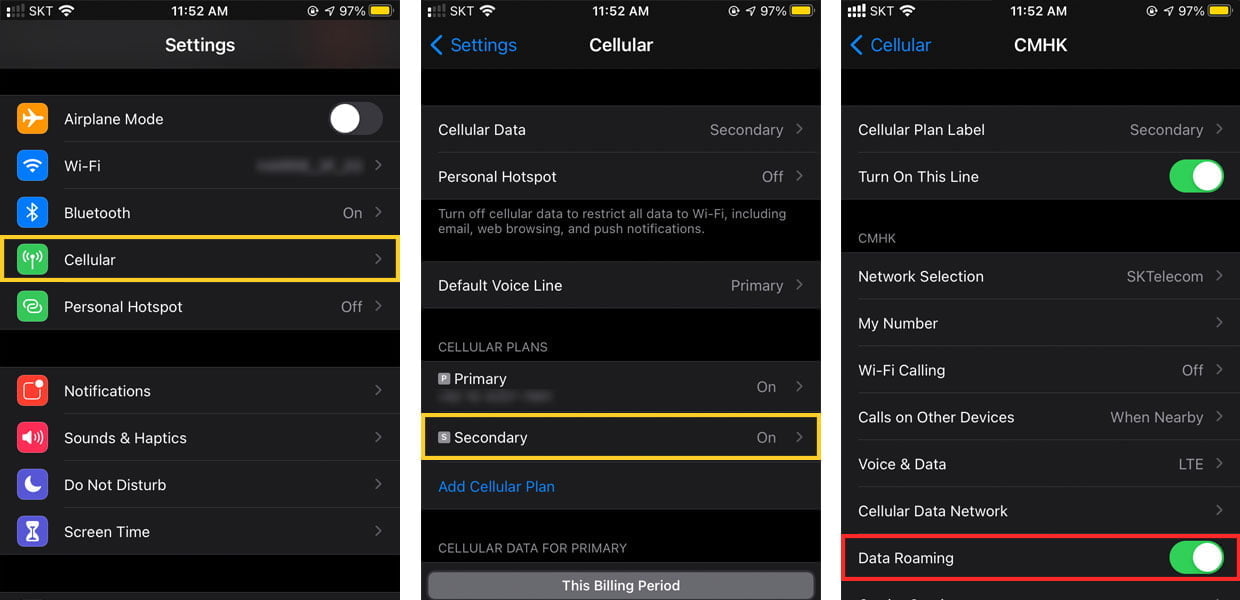 To prevent unexpected charges, it's important to disable the automatic switching of lines. Here's how to do it on Apple Devices:
For Apple Devices
01. Access [Settings] – [Cellular]
02. Tap [Cellular Data]
03. Make sure that [Allow Cellular Data Switching] is turned OFF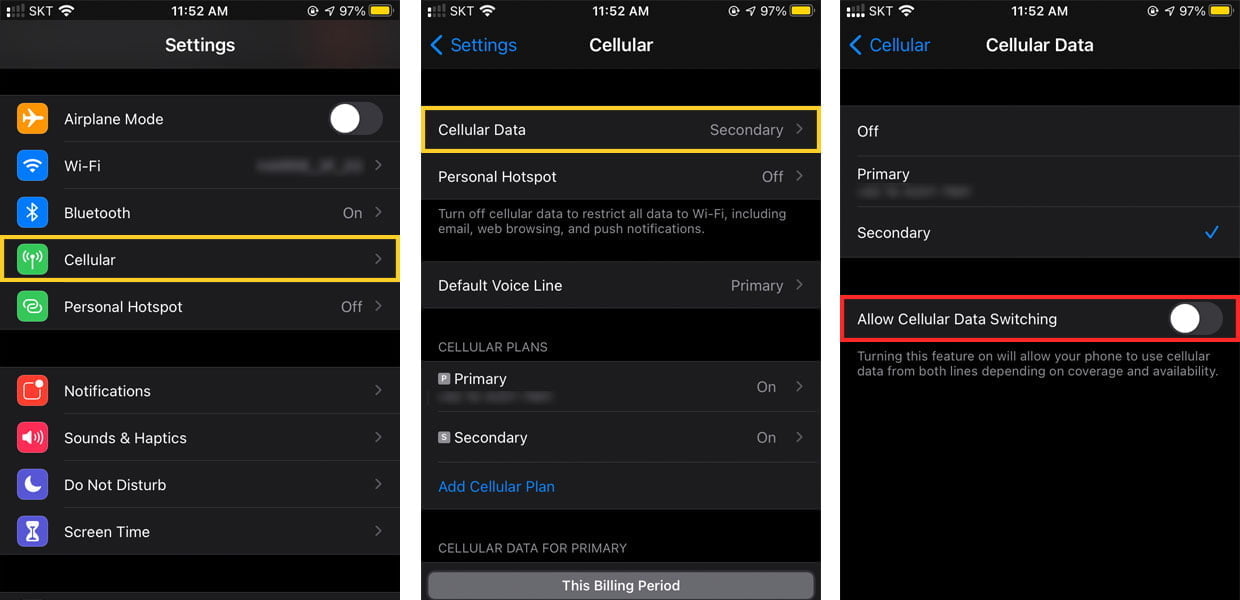 We also advise getting in touch with your domestic carrier to inquire about "Blocked charged international roaming" services. This ensures you have the most appropriate data options in place when using the eSIM plan.
What occurs if I exhaust my data or surpass the validity period?
After you've consumed all your data or the validity period has lapsed, internet access will be temporarily suspended. Extending the validity or obtaining more data is a simple procedure. Look for the "Make a Top-up" button within the email that contains your QR code.
Can I delete the eSIM?
If you no longer require an eSIM, you can remove it by following these steps:
For Apple
01. Access [Settings] – [Cellular/Mobile Data] –
02. Tap on the eSIM plan you would like to remove from the list
03. Tap [Remove Cellular Plan]
(The name of the button can be something similar depending on the device)
For Samsung
01. Access [Settings] – [Connections] – [SIM card manager]
02. Select a plan on eSIM that you want to remove
03. Toggle the switch to disable the eSIM
04. Tap [Remove]
For Google
01. Access [Settings]
02. Tap [Network & internet] – [Mobile network]
03. Select the eSIM you want to delete
04. Tap [Delete SIM]